In 2017 alone, more than 178 billion mobile apps were downloaded worldwide for gaming, navigation, dating and just about everything else. Estimates are that smartphone owners use an average of nine apps every day and 30 per month. Being an app creator has immense potential to put you on the map in the world of mobile tech, but the road isn't easy, and your experience depends on how adept you are at coding. Most non-programmers and amateur app entrepreneurs have to find creative ways to bring their app visions to fruition.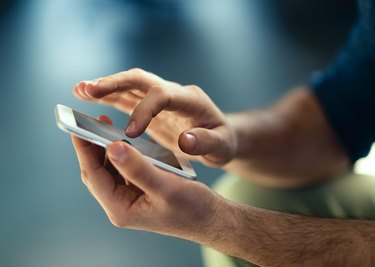 Planning Your App
Although your app will eventually thrive digitally, don't underestimate old-school analog tools in the beginning stages of creation. Many apps start with a sketch. Draw the basic user interface of the idea and how the screens may appear based on user interaction. Then progress to polished and detailed pitch packets, visualizations and infographics (created in apps such as Adobe Photoshop) to present every key aspect of your app in clear detail.
If you're already adept at programming and aim to release on iOS platforms, you can order a Software Developer Kit from Apple's official developer website for a $99 fee as of 2018. If you're aiming for Android devices, Google Play's developer fee, which includes its Developer Console, is $25. Whether or not you code the app yourself, you still have to pay the fees to become an official developer before you can release on the respective platforms.
Speaking of fees, budgeting is a crucial part of app creation. In addition to developer fees, set aside funds for paying a programmer or subscribing to an app-creation service, potential educational costs, the licensing rights to any non-original images you use, and the domain rights for your app's official website. The costs for even small apps can quickly add up to thousands of dollars. If you end up taking an in-person coding boot camp, the price tag can balloon to five figures or more.
Learning to Code: The DIY Route
If you're determined to take on every challenge of app creation yourself – which offers the benefit of a fully bespoke app – you'll need to learn a programming language like XCode or Swift for iOS platforms or Java for Android development. Apple offers an official, year-long app development curriculum available at various community colleges across the U.S., but you can also learn the ropes with online coding and app development courses via Udemy, Udacity, edX and others. If you prefer in-person education, app-focused coding boot camps like App Academy, Bloc, Startup Institute and others offer crash courses in major cities, most of which take a few months to complete.
The purchase of Apple's Software Developer Kit or Google's Developer Console includes a wealth of developer resources, from programming guidelines and design pointers to marketing tips, so don't forget to dive into those resources once you have the programming basics down.
App Creation Sans Coding
Just as services like Wix or Squarespace allow you to build a website without knowing a single line of code, numerous online platforms enable you to create fully functional apps without a lick of programming via relatively straightforward visual interfaces and tweakable templates.
While AppMakr and Appy Pie offer free app creation with either on-site or in-app ads, you can pay about $20 to $60 a month for a services such as Bizness Apps or GoodBarber, which have advanced features that may include GPS-enabled maps, Google Font integration, built-in tutorials, and streamlined uploading to various app stores. If you can drag, drop and tweak, you can make an app on platforms like these.
If programming or template-based app creation is too far a bridge for you to cross, the world is full of helping hands to bring your concept to life. Sites like Dribble, Toptal, Gigster, Crew and others host professional freelance app designers who offer design, programming and marketing services at an hourly rate.
Releasing and Marketing Your App
Before releasing your app, you have to price it. For beginners, offering your app for free download with in-app purchases is a model that offers easy entry for users and greater chances of profitability for creators.
You also have to test the product. Use your app relentlessly in every possible capacity and on a wide variety of devices and screen sizes, and share it with a closed group of testers from all walks of life – and of all skill levels – to identify and remedy any pain points or bugs before you submit it to Google or Apple.
After you upload your app and are approved on the App Store or Google Play (via your development kit or by using a paid service like Bizness Apps), you receive a percentage of the selling price each time someone buys your app or its paid in-app feature. However, you won't get much if you don't market your app. Use a multifaceted combination of word-of-mouth, in-person demos at trade shows, sharing with friends and family, paid ads, and social media blasts across Facebook, Twitter, Instagram and Snapchat.