There's a certain satisfaction to be had from mindless activities, from washing the dishes to putting in 30 dogged minutes on the treadmill. Most of the time, though, it's easier to get into the routine if you have something to occupy your brain. Music and audiobooks work just fine, but if you prefer to be informed and mentally stimulated, your best bet might be podcasts. They're available on just about any topic you can think of – and a lot you probably wouldn't – and they're a never-ending source of new information.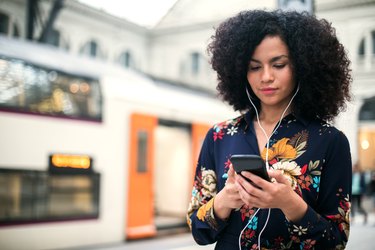 What Is a Podcast, and How Do They Work?
There's nothing complicated about a podcast. It's just a file – usually audio, but sometimes video – that you can listen to online or download for later. Mostly podcasts are about information, like much of the programming you'd hear on National Public Radio in the U.S. or its international equivalents. In fact, those same radio stations often make their programming available as podcasts, so you can catch your favorite shows without having to be near your radio at a specific date and time. Not all podcasts are created professionally, though. Anyone with something to say can buy a microphone, record a show, and make it available for listening. No matter what you're interested in, you'll find podcasts worth listening to.
How to Find Podcasts
If you're looking for podcasts from a professional broadcaster, they're easy to find. Go to the broadcaster's website, follow the link to your show's page, and you should find recent episodes available for download. You can also subscribe to the show, just as you would with a magazine, and you'll get each new episode as it's released. There are plenty of other ways to find interesting podcasts, as well. If you belong to an online forum of enthusiasts in any field, several of the people in your group probably have favorite podcasts on the subject and may even create them. You can also turn to podcast-oriented websites for lists of interesting shows or browse the offerings on a major podcast provider such as iTunes. When you find a podcast you like, click to subscribe to it.
How to Listen on Your iPhone
Once you've subscribed to podcasts you find interesting, you need a way to listen to them. Any media player app can play the audio file, but you're better off using one that's designed for podcasts because it automatically loads the podcasts you subscribe to, and you can set it to play any unheard episodes back to back. IPhones come with the Podcasts app installed, so you have everything you need from day one. You can browse and subscribe to podcasts right from the Podcasts app on your phone and then listen to them at your leisure. To play a podcast, open the Podcasts app, tap the "Listen Now" button, and then tap the show you want to listen to. That's all there is to it. The Podcast app plays the next episode in the series automatically when your current one ends, but you could queue up a different show instead. Press hard on the show you want to hear next and tap "Play Next" to add it to your queue. For additional shows, do the same thing but tap "Play Later."
How to Listen on Your Android Phone
Listening to podcasts on an Android phone hasn't been as straightforward as listening on an iPhone because Android phones lack a dedicated podcast app as part of the standard installation. Instead, you listen to podcasts through the Play Music app. Tap the hamburger menu in the top left of your screen – the one that's made up of three horizontal lines – and choose "Podcasts" from the drop-down menu. The main page displays popular and trending podcasts, or you can search for the ones you want. Anything you've already subscribed to shows up under Your Podcasts. Just choose a show and tap "Play" to listen.
In June 2018, Google finally launched a dedicated podcasting app called Google Podcasts with a number of interesting features including integration with Google Assistant. Like Apple's Podcasts app, you can sync your playlist across multiple devices: If you start an episode on the train home, you can finish it later from your Google Home speaker or another device.
How to Download Podcasts
You can stream a podcast anywhere, any time, as long as you have a data connection. If you expect to be out of coverage for a while or if you're getting uncomfortably close to your data cap, you can also download episodes of your favorite podcasts for offline listening. On an iOS device, tap the "Library" icon in the Podcasts app to look at your list of shows, and then tap the "Download" icon to download the ones you want. If you don't have a download icon for that episode, it's already been downloaded. On Google Play, tap to select the podcast you want and then tap the "Information" icon – a lowercase "i" in a circle – to bring up a menu. From there, tap the "Download" icon to download your episode.
Other Ways to Listen to Podcasts
If you get into podcast listening in a serious way, you don't have to restrict yourself to the default iOS or Android apps. There are plenty of third-party apps available on Apple's App Store and Google's Play store, some free and some paid. You can choose between them by their ratings or look up any number of "best podcasting app" lists on the internet. Stitcher, Castbox and Pocket Casts are available for both iOS and Android as well as for Windows and Mac computers, and many more are available for each platform. Radio and music apps, such as Soundcloud and Spotify, can play podcasts as well. If you already use a music app regularly and you're comfortable with its features and interface, using it might be an easier way to listen than learning a new app.