First launched in 2012, Tinder is a pop culture phenomenon and one of the internet's most popular dating services. The app lets users swipe their phone screens or tap a button to like potential matches, and then start talking to anyone who likes them back. As with any dating tool, keep personal safety and privacy in mind when using Tinder.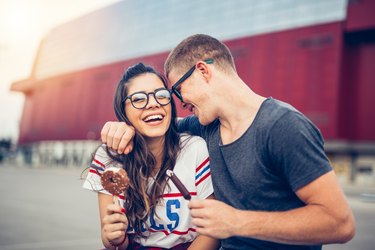 What Is Tinder?
Tinder is an online dating service available as an app for iPhone and Android or usable in your computer's web browser. Its signature feature is its interface in which you swipe right to indicate you want to connect with someone or swipe left to pass after looking at shared photos and a brief profile. Since its launch, that feature has been adopted by other popular dating apps as well. Tinder is owned by the Match Group, which also owns other popular dating sites including Match.com and OkCupid.
Surveys show Tinder is among the most popular dating services for millennials and other young people, and its popularity and effects on relationships, love and sex have been debated in news reports and stand-up comedy acts since it appeared on the market.
How Does It Work
To start using Tinder, install the Tinder app for an iPhone through the App Store or for an Android phone through Google's Play store or visit the Tinder website on your computer. Create a new profile either by linking your Facebook account or by setting up an account just for Tinder using your contact information. The service is free, though you can pay for additional features such as extra likes per day and the ability to see who likes you.
Fill out your profile with information such as your first name, age, educational background and work information, and upload photos or import them from your Facebook account if you have it linked. Your photos and other information are visible to anyone searching for matches on Tinder, so consider them to be public and do not share photos or profile information you prefer to keep private.
When you're looking to find matches, you start swiping or clicking to approve or pass on other Tinder users. Swipe right or click the "heart" button to like someone and swipe left or click the "X" button to pass. To take a closer look at Tinder users' images and profiles, click or tap on their photo and scroll down to read their profile or scroll left and right to page through their photos.
You can also click the blue "star" button or swipe up on someone's profile to "Super Like" them, which sends a notification that you have done so. Otherwise, you only see when someone likes you if you like the person back, in which case, you can start a conversation.
Click or tap the conversation bubble icon in the top of the app or website to see users you matched with and send them messages. Scroll through your list of matches and click or tap on a particular person to see your conversation and send a new message. You can type a message or send an emoji or GIF, although you can't send photos within Tinder.
Can You Block Someone on Tinder?
If someone is annoying you on Tinder or you no longer want to talk to them, you have several options. Within your conversation with the person, click or tap the menu icon in the top right corner and then click "mute notifications." You no longer receive notifications that the person is talking to you, but they can still see and communicate with you.
You can also click "unmatch," in which case the person is removed from your list of matches, and your conversation disappears from your ongoing correspondence. If you unmatch someone, you can't rematch them later.
You can also use the same menu to report someone who is behaving inappropriately, whether they're being offensive to you or appear to be trying to scam you or sell you something. Click the menu icon and then click "report" to report someone for inappropriate behavior.
Can You Clear All Matches on Tinder?
There's not a single menu option or command to delete all your matches on Tinder. You can go through your matches individually and unmatch them, or you can delete your account and, if you wish, create a new one. If you create a new account, all your matches are gone.
If you want to delete your account, click or tap the profile icon within the app or website, go to "settings" and select "delete account." Then, create a new account using your contact information or Facebook and start again with a new profile, pictures and new matches.
Other Considerations and Safety Warnings
When you're using Tinder to talk to strangers, it's good to keep safety and privacy in mind. Don't share much about yourself before you feel comfortable with someone and make sure to meet anyone you connect with on Tinder in a public place where you feel safe.
Let someone know when you're going on a Tinder date and consider using other tools such as a search engine to research someone before you meet.
If someone misbehaves on the platform by demanding additional photos, sending obscene or hateful messages, or attempting to scam you or sell you anything, you can report them to Tinder or unmatch them.