A virtual private network, or VPN, provides a way to safeguard your privacy when you use the internet on your phone or computer. A variety of VPN software is designed for various needs, but select a VPN provider you trust because the provider may be able to eavesdrop on your communications or install malware on your computer.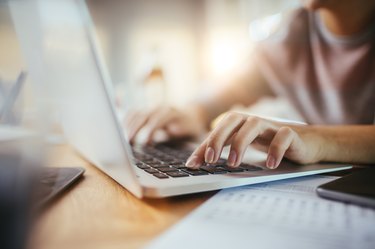 What Is VPN?
A VPN is a way to connect to the internet through an encrypted connection. When you access a website, upload data to an app or check your email, the VPN encrypts all your communications and sends them to a server run by the VPN provider, which then sends them on to their destination.
That is useful for preserving your privacy when you don't trust the network you're on, whether it's an internet service provider or a Wi-Fi connection at an airport or coffee shop. You can also use a VPN to connect to a corporate network for work purposes. Many companies use this method to limit access to their internal networks to employees with VPN usernames and passwords and to encrypt their connections to work machines.
How Does VPN Work?
A VPN encrypts all the data you send from your computer across the internet, shapes it into specially formatted packets of data and sends them to the VPN server. The server has digital keys it can use to decrypt the data, but anybody else without these keys won't be able to read the data you transmit.
The server then routes the data to its destination, whether it's a work computer on your corporate network or another server on the internet. When you receive a response from the destination machine, it is routed to the VPN server, which encrypts the data and sends it back to your computer or phone, where your VPN software decrypts it.
The VPN server hides your computer's internet address and location and makes it harder for people to eavesdrop on you.
How Do I Set Up a VPN?
There are several types of VPNs and ways to set them up. If you use a VPN assigned by your employer to connect to corporate systems at your office, talk to your company's IT department or look at reference materials your company provides for answers to your questions.
If you are setting up a VPN for your own use, you first want to find a trusted VPN provider that charges a fair price. Mainstream media sites and technical publications regularly review VPNs, so research online to find one that's reliable. Different VPNs have different pricing policies based on how much data you use, how many devices you use with the VPN and other factors, Some may have servers that are close to your location, which results in speedier connections.
After you find a VPN provider that works for you, visit its website to learn how to configure it for use on your computer or phone. Many VPN providers provide software to install that allows you to connect to the VPN using a username and password you configure.
In some cases, you may not need to download software and may only need to enter the login information in the settings menu of your computer or phone. Your VPN provider can tell you how best to connect.
If you have any questions about how to connect or whether you're connected, contact the VPN provider before sending any sensitive data to make sure the VPN is working properly.
How Do You Know If You Have a VPN?
If someone else set up your home or work computer or phone, you might not be able to determine whether you have VPN software installed, turned on and configured. In that case, ask whoever set up your computer or phone for help finding and using any VPN software.
If you installed the VPN software yourself, the software usually gives you an indicator that tells you when the VPN is connected or disconnected. In some cases, you may need to disconnect the VPN to access specific sites, such as media streaming sites that block access through VPNs.
Some devices, such as iPhone and Android phones, display a VPN indicator when you are connected to the internet through a VPN. Check your device's documentation to see if this applies to you, and contact your VPN provider with any questions.
Can You Be Tracked If You Use a VPN?
VPNs encrypt your communications and make it difficult for people to eavesdrop on you or learn your device's IP address and location, but they don't stop all online tracking.
For example, companies can still place cookies on your device when you visit a website. They use cookies to keep you logged in as you interact with the site, but they can also use them to monitor your behavior and show you customized advertisements.
Your VPN provider can monitor whatever any information you send through the VPN including the websites you visit. Many VPN providers promise not to log this information, but you ultimately should use a provider you trust because you'll be providing private data that may include your credit or debit card information to pay for the service.
Other Considerations
A VPN can boost your online security, but it isn't a silver bullet. It won't stop malware from getting on your computer or protect you if you provide your username and password to a scammer. A VPN doesn't protect you when a company you do business with experiences a data breach or when someone has physical access to your computer or phone.
If you're using a work VPN, your employer may monitor the sites you access through the VPN, so limit your use to activities you feel comfortable sharing with your employer.