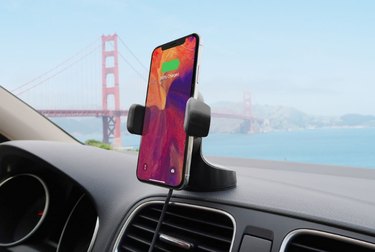 People have always been able to find their way from point A to point B without the use of technology. They either use physical maps (you know, made of paper), or they use their memory. But since the invention of mobile smartphones, our brains have become so reliant on GPS services like Waze or Google Maps to get us where we're going, we'd be lost without them. Literally. But that can be super dangerous unless your phone is properly mounted.
Kenu just released two new car mounts for smartphones, and they both allow you to use GPS while your device remains hands-free.
Airbase Wireless
Designed for the dashboard or windshield, a strong and secure suction cup holds your phone in place while simultaneously charging it. A 360 degree pivot joint holds your phone in portrait or landscape.
Airframe Wireless
This mount attaches to your car's vent. Like the Airbase Wireless, it works with all Qi-enabled smartphones, including Apple and Samsung. It'll charge your phone while simultaneously giving you directions (or playing music, calling your friends, or whatever you can safely do on your phone while driving).