The 2018 midterm elections are coming up on Tuesday, November 6th. If this is your first time voting, or if you haven't yet registered, Snapchat is making it quick and easy by connecting users to a voter registration nonprofit called TurboVote.
Here's how use the new feature
Open Snapchat. If you're at least 18 years old and eligible to vote in the U.S., you'll see a yellow dot next to your profile icon. Click the icon to access a link on your user profile page asking you to register to vote. The link will redirect you to TurboVote where you can complete your registration. The site will also remind you of upcoming election dates, registration deadlines, and polling locations.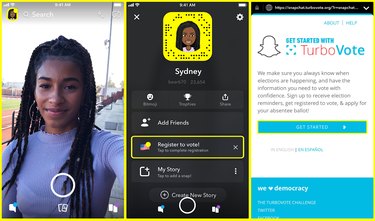 "We're working hard at Snap to engage, inspire, and register eligible voters this election season through creative, product-driven launches," explained Jennifer Stout, Snapchat's Global Head of Public Policy. "Voting is one of the most important forms of self-expression we have, and we're committed to empowering our community to register and vote for their chosen representatives."
Snapchat offers new filters you can use to encourage your friends to register to vote. According to a report from the Center for Information and Research on Civic Learning and Engagement, only 19.9 percent of 18 to 29-year-olds in the U.S. voted in the 2014 midterm elections. So, the hope is that little things like new Snapchat filters will help inspire young people to vote—no matter who they choose to vote for.