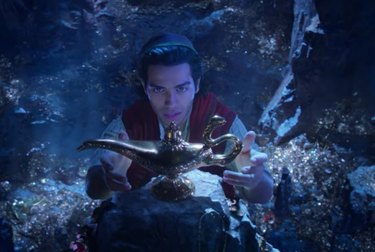 I don't know about you, but I've had the entire Aladdin soundtrack stuck in my head since 1992, and it's about to get even more intense. Disney has finally released the first teaser trailer for the upcoming live-action Aladdin, and along with being visually stunning, the music will take your breath away.
The teaser doesn't reveal much, but it does give us a glimpse of the chilling kingdom of Agrabah, along with a brief look at Aladdin himself, played by Mena Massoud. Directed by Guy Ritchie, the film also stars Will Smith as Genie, Naomi Scott as Jasmine, Billy Magnussen as Prince Anders, and Marwan Kenzari as Jafar.
Aladdin is set to be released on May 24th, 2019. So, dust off your magic carpets, because it looks like its going to be quite the ride.