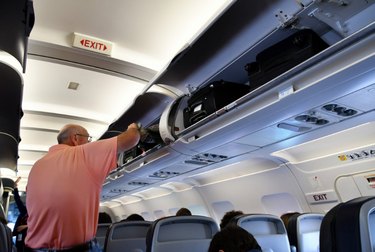 Flying is stressful, and dealing with a carry-on bag that doesn't fit in the overhead bin adds a new layer of stress. But it doesn't have to be that way. Thanks to Kayak's augmented reality feature, you can now determine if your bag will fit in the provided space on airplanes before you travel.
Kayak's new bag measurement tool for iOS uses Apple's ARKit technology to allow passengers to measure their bag size to find out if it fits in the overhead bin. The dimensions in overhead bins differ from airline to airline, according to Kayak, but the new measurement tool works with all the major airlines except Southwest. (Southwest has its own bag measurement tool.)
Here's how it works:
Open the Kayak app and click "new bag measurement tool." You'll be prompted to scan the floor, which helps calibrate measurements. Move your camera around the bag to capture its size. The app will then do the math for you, giving you the exact measurements of the bag, and letting you know if the bag is good to go on the airline you're flying.
Download the Kayak app here for iOS.