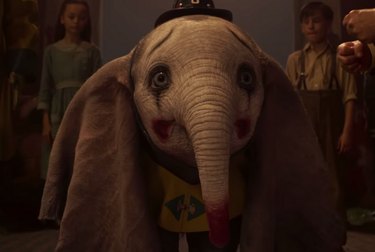 Based on the trailer, Tim Burton's remake of Dumbo is quite possibly going to be the most heartbreaking Disney remake you've ever seen (that is, until the Lion King remake is released in July 2019).
Disney released a new trailer for the remake of the original 1941 animated movie you probably cried through as a child, and you're probably going to cry through the live-action version as an adult.
The trailer shows Dumbo being torn from his mother while being forced to wear makeup and participate in the circus, only to be exploited by the awful entrepreneur V.A. Vandemere (Michael Keaton). The movie also stars Colin Farrell, Danny DeVito, and a CGI Dumbo.
The only thing that got me through the trailer is knowing that (spoiler alert) Dumbo will eventually be reunited with his mom and things will be happy again. Because even though it's a Tim Burton film, it's still Disney.
Catch Dumbo in theaters March 29, 2019.