It's nearing the end of 2018, which means it's time to put the Top Nine app to use. In case you haven't browsed around Instagram lately, Top Nine is a tool that creates a collage of your top nine most liked Instagram posts of the year.
To get yours, either head over to the Top Nine website or download the app for iOS or Android (if your account is private, you'll need to use the app). Type in your Instagram username along with your email, and the app will email your collage as soon as it's ready (typically within a few minutes). From there, you can download the image and post it to your Instagram Story or page.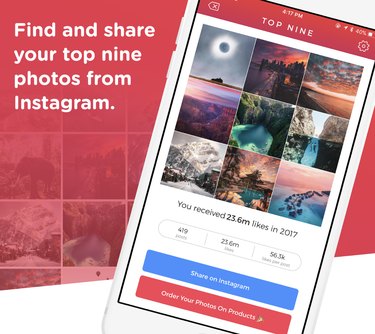 The app also offers the option to have your images printed on physical items like a phone case, canvas, pillow, or tote bag. If you do happen to get something like a tote bag made, make sure to take a picture and post it to Instagram. Because a picture of a tote bag with a picture of your most popular Instagram picture is the ultimate inception Instagram post—maybe cool enough to get enough likes for your 2019 Top Nine.