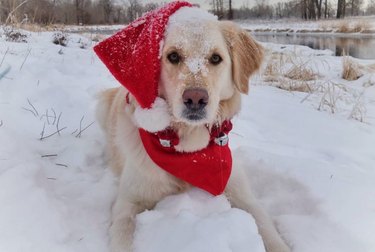 It's Christmas Eve day! If you're at work, you're definitely not working, so there's no better time than right now to look at adorable dogs on the internet dressed as Santa. Because the only things better than Santa on Christmas are a bunch of dogs dressed as Santa. Also, milk and cookies are pretty good too.
So, without further ado, here are some very festive good dogs dressed as Santa:
Santa Ralph.
He doesn't seem thrilled about it, but he's ready for Christmas.
Bob's a good sport.
Ready.
At least her one ear is warm.
He might actually be Santa.
The beard though!
Santa poodle.
Santa has come to town.
Two Santas are better than one.
Pajama Santa.
Break time.
We believe.
Of course, Santa needs his reindeer.