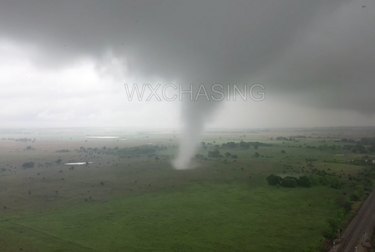 Unless you're a storm chaser or a really, really adventurous person, witnessing a tornado up close probably isn't your idea of a good time. They're unpredictable and wreak havoc on anything they touch. But if you have an interest in watching a tornado do its thing without the risk of, you know, death, check out this new drone video.
The footage was shot by Brandon Clement near Hickory, Okla. on Tuesday. The tornado didn't cause any damage, so he told The Washington Post that getting the shot was nothing but pure joy.
Clement considers this particular tornado to be the "perfect storm," as it didn't cause any wind to throw off the drone, and there wasn't any hail or curtains of rain surrounding the vortex, allowing for a clear shot.
"I've been working on getting that shot for about three years now," Clement said, admitting that he's been chasing storms since he was a kid. "I've probably done a half-million miles chasing across the country by now. But this one is pretty special."
The stunning footage has drawn lots of attention, particularly in the meteorology world, with many tweeting their amazement.
Like Rick Smith, the warning coordination meteorologist for the National Weather Service office in Norman, Okla.
And the Weather Channel's Stephanie Abrams.
And Dakota Smith, meteorologist at Weather Nation.