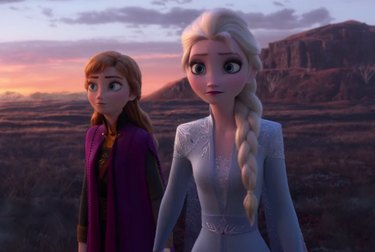 It's been six years since Frozen was released in theaters, and if you have young kids, that means it's been six years of not being able to get "Let It Go" out of your head.
Disney just released the official full length trailer for Frozen 2, and it's safe to say that it's probably going to be another hit. The Frozen sequel picks up after Elsa and Anna have left their kingdom of Arendelle to unravel an ancient truth about their homeland. They must travel across ancient lands to save their home from some sort of terrible threat.
The trailer is eery just like the teaser, which was released back in February. There appears to be giants, trolls, and an underwater horse made out of ice. There will no doubt be plenty of new addictive songs, as the film is a musical, but you won't hear any of that in the trailer.
Kristen Bell and Idina Menzel reprise their roles as the voices of Anna and Elsa, plus Kristoff, Olaf, and Sven are back in for more adventure.
Frozen 2 hits theaters on November 22nd.