Kano is a startup company that builds computer and coding kits designed for kids, an effort to get kids excited about coding. The company just announced an exciting partnership with Microsoft, and together they are launching a build-your-own Windows computer for creative learning.
The Kano PC is the first build-it-yourself Windows 10 computer. The 11.6-inch touchscreen is powered by a 1.44 GHz, quad core Intel Atom x5-Z8350 processor, along with 4GB of RAM and 64GB of storage. In other words, it's a real computer that your kids can actually build themselves.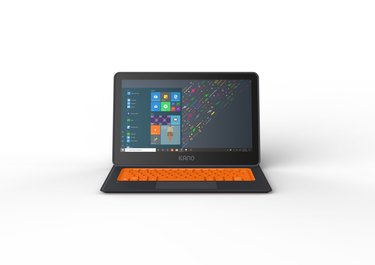 "True to the company's DNA, the Kano PC provides tools to demystify technology, and to make almost anything," Kano explained in a press release. "When it comes to life, a step-by-step journey begins onscreen. You start with the exclusive 'How Computers Work' experience, an app that lets you create emojis with binary code, tinker with touch and sound, and play with the processor and memory, learning exactly what your computer is doing when you tap keys, talk into the mic, or touch the screen."
The Kano PC also comes with:
Make Art – Learn to code high-quality images in Coffeescript
Kano App – Make almost anything, including magic effects and adventurous worlds, with simple steps and programming fundamentals
Paint 3D – Make and share 3D models and send them out for printing
Microsoft Teams – To get new projects and content, and share your work
Kano Projects – Personalized projects on coding and creativity delivered directly to your dashboard
The machine features hundreds of hours of computer science curriculum. It connects to Kano World, an online community where kids can make, share, and play, in a safe space with hundreds of thousands of other coders.
You can preorder the Kano PC now for $299.99. The kit will go on sale worldwide at Kano.me, education resellers, and selected retailers in the United States, Canada, and the UK starting October 21st, 2019.