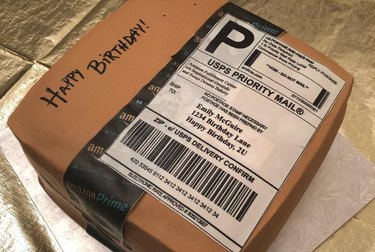 Emily McGuire loves Amazon. In fact, she orders from Amazon so often that her husband had her birthday cake made to look exactly like an Amazon package.
The cake looks so much like an Amazon box, McGuire initially thought her gift was inside. But when she realized it was actually a cake, she was thrilled.
"As soon as I saw the cake, I was like, 'He gets me,' " she told NBC's Today, of her husband. "I felt so understood!"
The cake was made by Sweet Dreams Bakery of Dunn in North Carolina, and people all over the country are obsessing over it (because it's truly incredible).
According to Today, owners Brent and Trena Norris said the cake took eight hours to make and it's entirely edible, even the label and tape, which are made of sugar and wafer paper.
No word on whether they'll start selling the cake on Amazon, but it'd be a beautiful full circle moment if they did.