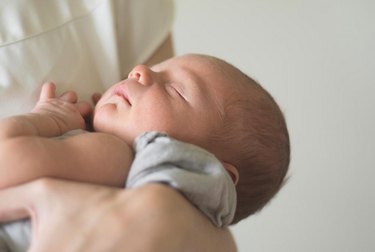 I was tired. Really, really tired. After giving birth to my son, I stopped sleeping. You know, as it goes for most parents of a newborn. I also have a toddler, so this time around, sleep deprivation just wasn't an option.
My newborn needed to be sleep trained and I needed help doing it. Enter Taking Cara Babies, a program that offers an online course called "Will I Ever Sleep Again?" to help new parents and their newborns sleep. Like, actually sleep for longer than two hour stretches. My mom friends swear by the course, and I wanted to also swear by it.
Taught by Cara Dumaplin, a neonatal nurse, mom of four, and wife of a pediatrician, the course is designed for parents of babies 12 weeks and younger, and she suggests getting started within the first month to lay a healthy sleep foundation.
The tools and tips taught in the class help you calm a fussy baby, read your baby's cues, set your days and nights up for success, and have more confidence that you're making the right decisions for your baby. Most importantly, they help you love the newborn stage.
Cara walks you through the ups and downs of getting your baby to sleep through the night, and she truly knows what she's talking about—which is very clear when your baby actually starts to sleep through the night at such a young age, as mine did.
I don't want to say Cara is magic, but she's not not magic. The day my son turned 1-month old, I began implementing the tips I learned in the course, and he immediately started napping way longer and was a much less fussy baby. And since sleep begets sleep, he also started having longer stretches at night.
I love that it's a no-cry approach, breastfeeding friendly, evidence-based, practical, suggests flexible routines, and keeps you emotionally connected.
Here's a quick video of Cara sharing her story and some tips on sleep training for kids ages 5 to 24 months:
The online course is $74 and worth every penny (in my humble, sleeping parent opinion). You can also opt in to join Cara's live class for $149 if you need extra encouragement and support. Click here to get started.