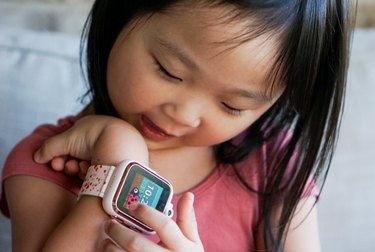 By now, you've probably done most of your holiday shopping. But if you've been too busy doing other things like, I don't know, schlepping your kids to all their activities, keeping them fed, and also finding time to shower, Amazon is here to help.
I've rounded up some last-minute gifts for kids that are available through Prime's super fast shipping. Because sometimes life gets in the way of holiday shopping, and that's totally fine.
iTouch Playzoom Smartwatch
iTouch has really great Apple Watch alternatives for all ages, but the Playzoom is made specifically for kids ages 4 to 7. It features a digital camera with video recording capabilities. Kiddos can save up to 50 photos that can be uploaded onto a computer. It has games and activities that'll keep your child engaged and learning. Plus, it's a fully functioning smart watch with a stopwatch, alarm, timer, calendar, wallpaper, and it comes in super fun designs and colors.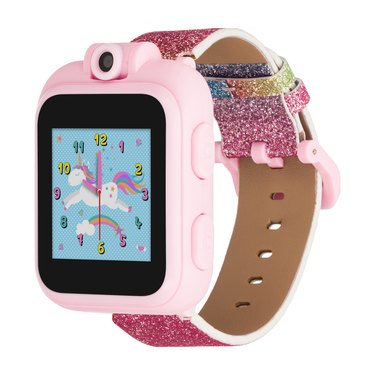 Coding Critters
Introduce your preschooler to early STEM concepts with this adorable interactive game. Coding Critters comes in three different playsets, each designed to help kids learn hands-on coding while building critical thinking and problem-solving skills. Kids can choose between two modes: Play and Code, where they can follow the storybook adventure or design their own coding challenges.
Snaptain Mini Drone
Easy to fly for beginners, the Snaptain Mini Drone has three modes of flying and has an infrared sensing system to directly control the drone by hand. A pretty cool feature for kids.
Harry Potter Invisibility Cloak
For any Harry Potter fan, this invisibility cloak works with iOS or Android, and it's as cool as you'd imagine.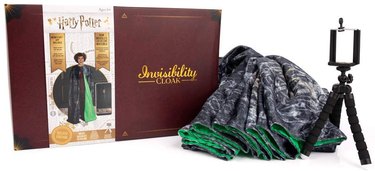 Playfoam Pluffle
Kids are obsessed with this non-toxic Playfoam. It's a much cleaner version of slime and more fun than Play-Doh. It's soft and fluffy and a great sensory activity for kids ages 5 and up—especially those interested in exploring new textures. It comes in a two or four pack with eight color options.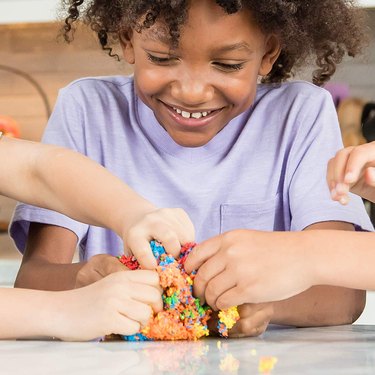 Beaker Creatures Alien Experiment Lab
Need to find the perfect gift for a budding scientist? Beaker Creatures Alien Experiment Lab might be the one. It's an at-home experiment lab kit for kids ages 5+, and it has all the tools needed to perform super fun science experiments, including making their own pods, soaking the mystery collectible creatures in slime, and setting off a bubbling reaction.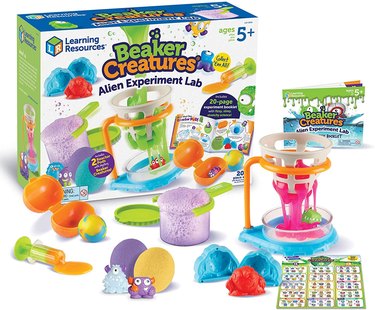 JIMU Robot Firebot Kit
JIMU's Mythical Series: FireBot Kit is super fun for kid with an interest in STEM. Designed for kids ages 8 and up, the kit encourages creativity, giving kids the opportunity to build, customize, and code their own dragon. They can program the FireBot to growl, spin, flap its wings, and blast its fiery red or icy blue LED flame. The kit comes with over 600 pieces, which is a great way for your child to practice patience. (And if your kid wants your help, you'll need a whole lot of patience too.)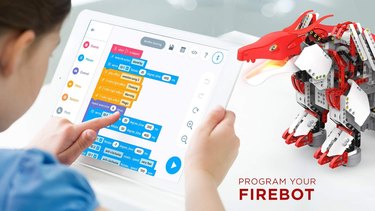 Smart LED String Light
Kids are all about decorating their rooms. So, since it's the holiday season, you might as well give them the opportunity to hang some colorful lights the way they see fit. Govee's WiFi-enabled LED string light can be controlled from the accompanying app or from the remote control, allowing kids to set their color preference, speed, and brightness. An added bonus of fun—the lights respond to the beats of music and work with Alexa and Google Home.
Rocketbook Everlast
If your kids love to doodle and just can't stop using all the paper, Rocketbook Everlast is a reusable notebook that lasts forever (or until your kid loses it). With a drop of water, the writing erases like magic.
Case-Mate AirPods Case
A fun twist on the AirPods Case. Case-Mate Hook Ups AirPods cases come with an earbud strap and circular ring clip to easily hook it on to a bag, belt loop, or keys. Choose from over 20 different colors and styles.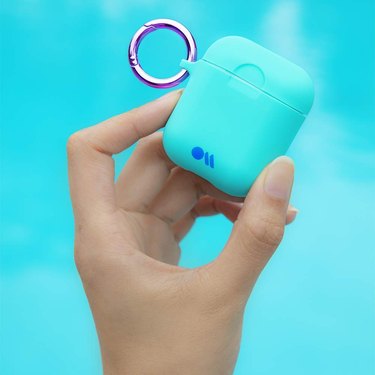 Smartish Prop Tart
For the kid who needs a little extra grip on their phone. The Smartish Prop Tart sticks to any case except for those made out of silicone.