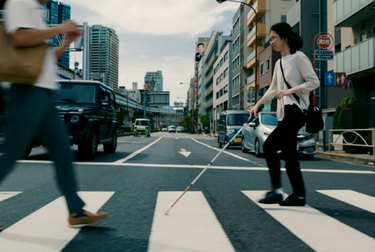 Crossing the street can be a major challenge for people who are blind or have low vision, especially when it's a street they've never crossed.
Google Maps announced a new feature that offers guidance when people are approaching and walking through intersections. The feature was built from the ground up by people with visual impairments, creating the technology that's needed.
Wakana Sugiyama is a business analyst living in Tokyo who is legally blind. She worked closely with the Google Maps team as an adviser and tester of the feature, and she said the detailed voice guidance provides verbal announcements to help her safely navigate streets with comfort and confidence.
"As I take my journey, Google Maps proactively lets me know that I'm on the correct route, the distance until my next turn and the direction I'm walking in," Sugiyama wrote in a Google blog post. "As I approach large intersections, I get a heads-up to cross with added caution. And if I accidentally leave my route, I'll get a spoken notification that I'm being re-routed."
"With detailed voice guidance in Google Maps, my journey fades into the background and I can focus more on what I'll do at my final destination," Sugiyama added. "This may not sound extraordinary to those with sight, but for people who are blind or have low vision, this can help us explore new and unfamiliar places."
Detailed voice guidance for walking navigation is available now for iOS and Android in the U.S. and Japan. To turn the feature on, go to your Google Maps settings and choose "Navigation". At the bottom of the list, enable "Detailed voice guidance," beneath the "Walking options" heading.