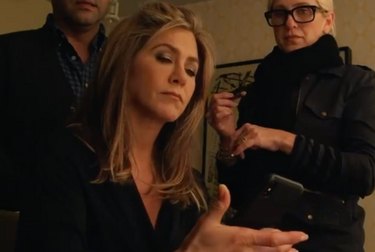 Jennifer Aniston's brand new Instagram bio says "My friends call me Jen," so that's what we'll do.
Jen finally joined Instagram after years and years of not being on Instagram. Her celebrity friends constantly requested her presence, and her fans did the best they could to get her to jump on the bandwagon with the hundreds of thousands of posts using the hashtags #rachelgreen and #jenniferaniston.
But she finally did it. Jen has joined Instagram, and she's already nailing it. First, she posted a blurry selfie of her Friends cast mates (because of course), which led her to beat the Guinness World Record for reaching 1 million followers in just 5 hours and 16 seconds. (Prince Harry and Meghan Markle previously held the record at 5 hours and 45 minutes.)
Then she made this gem of a video thanking everyone for the warm welcome.
Of course, Instagram isn't Instagram without a throwback pic.
And when you're Jen Aniston, you have to acknowledge the ridiculousness of it all, which she does so elegantly.
So what I'm trying to say is, if you aren't already following Jennifer Aniston, you should probably get on that.