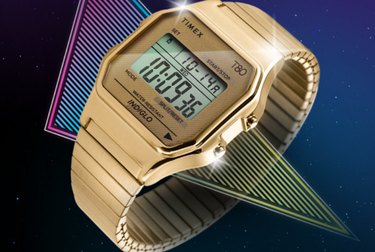 Smartwatches are great for obvious reasons, but some people may not see the point in buying a wearable device that practically does the same thing as a smartphone. So, if you aren't interested in jumping on the smartwatch bandwagon, but still want to rock a cool watch, this PSA is for you.
Timex is reviving its classic digital watch from the '80s, and what a time to be alive.
The Timex T80 has a black on gray LCD display with time, date, alarm, stopwatch functions, and an Indiglo backlight. It comes in four colors: gold, silver, black, and rose gold.

The price ranges from $59 to $65, depending on the color and style of case you choose. You can also choose from Timex X Pac-Man versions for $79.
Click here to check them out and feel all the nostalgic feels.