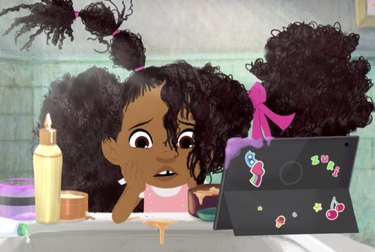 The Oscar winner for best animated short film is about an African American father learning how to style his daughter's natural hair for the first time without her mother. It's called Hair Love, and it's a beautiful story that ignites conversation about the importance of hair and heritage in the black community.
The story is mainly told through the gestures and facial expressions of a little girl and her father, with the only dialogue coming from a woman giving an online hair tutorial, which turns out to be a little too complicated for the girl to handle alone.
She asks for help from her father, whose solution is to put a hat on his daughter's seemingly untamable hair. That doesn't fly with the little girl, as she prefers to embrace her natural hair, just as her mom taught her.
Take a look at the short film for yourself. It's just shy of 7 minutes and worth every second.