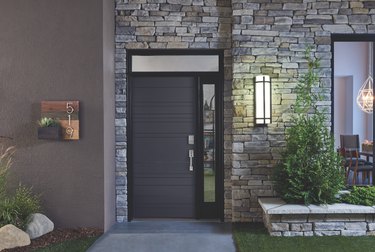 There are lots of reasons why adding a smart deadbolt to your front door might be a good idea for your family. You can lock or unlock the door from anywhere, your kids don't need to carry a set of keys with them, and you don't need to be there when a visitor needs to gain entry into your home. It just makes life a little easier.
The Encode Smart WiFi Deadbolt from Schlage is a good option. Its built-in WiFi allows you to lock or unlock the door from anywhere. It also lets you choose permanent access codes for your family or others who come over often, like the dog walker, babysitter, or your mother-in-law. You can also set up temporary access codes for guests who don't need permanent access, like your mother-in-law. The device can store up to 100 unique codes if you happen to be the most popular family in town.
The Encode can be paired with the Schlage Home app or Key by Amazon app, as well Alexa and Google Assistant. Built-in alarm technology senses if someone is trying to break in using the lock.
It comes in a matte black and satin nickel finish. Buy it here for $200.