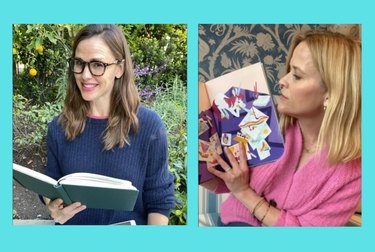 If you have kids, your life right now is likely all about staying safe and healthy, using the least amount of toilet paper as possible, and keeping the kids entertained, educated, and fed.
Unfortunately, not all kids have access to learning materials or food when their schools are closed, as many of them rely on the free breakfast and lunch offered by their schools each day.
In partnership with Save the Children and No Kid Hungry, Amy Adams and Jennifer Garner started #SAVEWITHSTORIES, which is a collection of stories read by celebrities on Instagram and Facebook to offer "a little fun, a little education, and a little distraction for kids and parents."
They are asking for donations, however small or large, to Save the Children and No Kid Hungry to "help make sure schools and community programs have the support they need to keep feeding vulnerable children during the pandemic, as well as provide books, games and other educational materials, along with afterschool and summer programs, to help kids make up for lost time in the classroom."
Here are a few of the stories:
"The Three Little Fish and the Big Bad Shark" read by Jennifer Garner
"Uni the Unicorn" read by Reese Witherspoon
"This is Baby" read by Jimmy Fallon
You can donate whatever amount you can here.