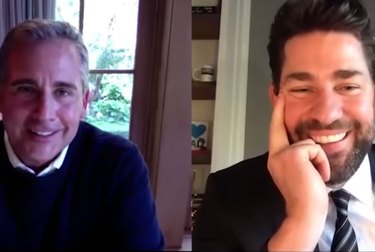 Coronavirus has effectively taken over our lives. It's on our minds all day long, because how could it not be? But we could all use a break from thinking about COVID-19, and John Krasinski and Steve Carell graciously stepped up to the plate to bring our attention to some good news.
Former The Office co-stars teamed up to create Some Good News, a YouTube show that reminds us that even though the world is going through a dark time, there's still a lot of good in the world.
Krasinski begins the show by explaining, "Without question, we are all going through an incredibly trying time, but through all the anxiety, through all the confusion, all the isolation, and all the Tiger King, somehow the human spirit still found a way to break through and blow us all away."
He plays clips of people showing their appreciation for heroic healthcare workers, someone offering toilet paper and hand sanitizer to delivery drivers, and another buying 100 lobsters for his neighbors to keep a lobsterman in business. It's all so beautiful, and the positivity we need.
And then, even more of what we need, Carell pops in alongside his wife Nancy via video chat, and he and Krasinski hilariously banter like the good ol' days of Michael Scott and Jim Halpert. After their chat, Krasinski brings things back around to everyone's reality by telling Carell, "Hopefully one day we just get to reunite as people, and all just get to say hi. I miss you a ton, man. … Boy, are you good news."
Here's 15 minutes of positivity: