Whether you park your car in the garage or use the space as storage, making sure your garage is secure isn't always an easy task. Safety isn't usually an issue because the garage door doesn't do its job, it's likely because you or someone in your family forgets to shut it.
If your garage is full of valuables, you know how important it is to keep track of the garage door. So, if you're tired of going outside to check if it's open or closed, one of these smart garage hubs might be a good solution.
myQ Chamberlain Smart Garage Hub
This smart garage hub is ideal for anyone wanting to keep tabs on what's happening in the garage when you're not around. The myQ app lets you monitor and control the garage door from anywhere and receive real-time notifications. You can remotely open the garage to let someone in or close it if it was accidentally left open, and you can schedule times for the garage to close.
The device offers in-garage delivery options so you don't have to worry about your Amazon Prime packages being stolen.
myQ LiftMaster Smart Garage Camera
For even more protection, check out myQ's new LiftMaster Smart Garage Camera. The LiftMaster is a garage-optimized camera that lets you see what's happening via a live or recorded feed on your smartphone. Video starts recording when motion is detected. Since garages can get really cold in the winter and super hot in the summer, the camera is equipped to function from -4 degrees all the way to 122 degrees.
The camera can also be used to make sure your in-garage deliveries from Amazon Prime go according to plan. Plus, the camera has a magnetic mounting base, making it easy to attach.
A subscription isn't required to stream live video, but you will need one if you want video storage. For 7-day video storage, the cost is $3 per month or $30 per year. Thirty-day storage is $10 per month or $100 per year.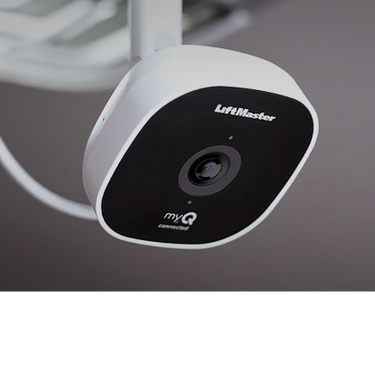 Eve Door and Window Wireless Contact Sensor
Eve's Wireless Contact Sensor was designed for doors and windows, but it also works well with garage doors. Through the app, you can receive a notification when you're out and about and the garage door is opened, and you can check the current status of the door—whether it's open or closed and the time it was last opened. For added convenience, you can ask Siri if the door is closed without even opening the app.