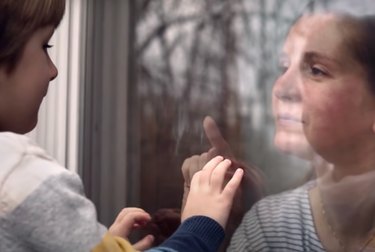 Staying at home is the most effective way to flatten the COVID-19 curve, but it's really, really hard. Even though this stay-at-home period will eventually end, it doesn't make missing some of life's most precious moments any easier.
Campbell's Soup has a new commercial that perfectly and beautifully sums up life right now. Set to The Highwomen's song "Crowded Table," the 45-second ad shows people finding ways to connect, whether it's through windows, virtually, or 6 feet away from each other.
In case you haven't heard of The Highwomen, the quartet is made up of four incredible singer/songwriters: Brandi Carlile, Natalie Hemby, Maren Morris, and Amanda Shires. Their song comes from their self-titled debut album, and it couldn't be more fitting.
As Campbell's Soup puts it, we all want a house with a crowded table. For many of us, that couldn't be truer.