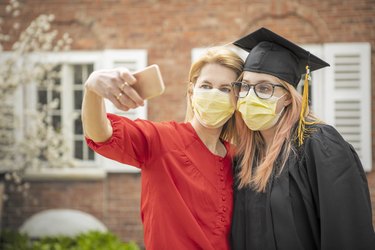 Graduations are canceled due to the coronavirus pandemic, and seniors across the U.S. won't be able to accept their diplomas in front of their friends and family. It's a huge let down for students who have worked so incredibly hard to graduate and were hoping for a big celebratory day, just as every graduating class before them had.
Even though it's safest to remain socially distant right now, that doesn't mean the graduation celebrations can't commence. Facebook and Instagram will be hosting a virtual graduation on May 15th to help graduating seniors feel celebrated, and everyone's invited.
Graduation2020: Facebook and Instagram Celebrate the Class of 2020 is a live-streamed graduation ceremony that will be streamed live on Facebook Watch and facebook.com/facebookapp over the course of several hours, with videos on @instagram, as well as on contributors' Instagram accounts.
Oprah will be giving the commencement speech, with more speeches given by Olympic gymnast Simone Biles and Awkwafina, Jennifer Garner, and Lil Nas X. Miley Cyrus will perform her song "The Climb."
Starting May 11th, Instagram will begin hosting virtual graduation programming, including senior superlatives, portrait showcases, and senior skip day. It'll also release a graduation countdown sticker, a celebratory sticker pack, music stickers that connect to graduation songs, new AR effects, and a custom hashtag page for #Graduation2020.
Facebook will also have a page that offers information on how to set up your own virtual graduation ceremony through the company's new video conference software, Messenger Rooms.