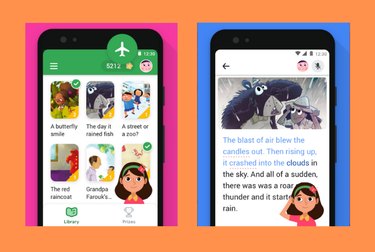 A new app from Google is here to help elementary school students practice their reading skills while schools are closed due to the coronavirus pandemic.
Read Along is a free Android app that's based on Google's existing app, Bolo, which helps kids in India read along to stories in Hindi and English. Designed for kids ages 5 and up, the new version of the app is now available everywhere (with the exception of Colombia, Denmark, and the Philippines) and offers stories in nine languages: English, Spanish, Portuguese, Hindi, Marathi, Bengali, Tamil, Telugu, and Urdu.
The app features a reading assistant named Diya who uses speech recognition and text-to-speech to detect if the child is having a hard time with a word or passage. Diya gently inserts herself to offer positive reinforcement, and if the child wants some help, they can asl Diya to pronounce a word or read a sentence.
Read Along also offers fun word games to play, along with in-app prizes as the child progresses. It's more fun than homeschooling, but it's still educational.
When designing the app, Google focused on safety and privacy. No WiFi is needed to use the app, and the voice data is analyzed in real-time on the device rather than storing it. There aren't any in-app purchases or ads.
There are currently around 500 stories available on the app, and parents can connect to WiFi to download more.
Download Read Along here.