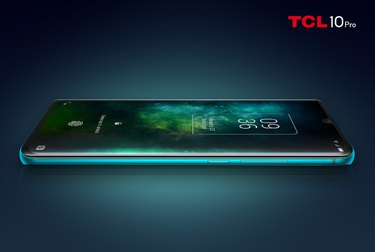 When it comes to smartphones, you don't have to pay over $1,000 to land yourself a high quality phone with stunning features. In fact, a brand new smartphone just launched that's under $500.
TCL is a Chinese consumer electronics company that doesn't get a lot of air time—not because the brand doesn't offer high quality products, but likely because bigger brands like Apple, Samsung, LG, and Xiaomi are... well, bigger. But the brand deserves a fair shot, and it's introducing its first series of smartphones: TCL 10 Pro, TCL 10L, and TCL 10 5G.
I was able to check out the TCL 10 Pro, and overall, it's a really great and affordable smartphone option. But full disclosure: I'm not a tech pro. I'm a mom and a gal who is super into tech gadgets, and I like to explain things the way I'd want them explained to me—in words that aren't so tech-y.
So, with that being said, here's my review of the TCL 10 Pro:
Let's start with the price, because that's important. The phone is $450, and for that price, you get a heck of a lot—most importantly (in my I-take-too-many-photos-of-my-kids opinion), a fantastic camera.
But let's start with the setup. It's an easy process to set up the Android phone, but it's pretty involved to ensure your phone is personalized. It takes you through the normal stuff, like transferring data from your old phone or Cloud, setting up the WiFi, choosing a password, and setting the layout of your home screen. You also have the option to set up facial recognition and thumb print for added security.
With 128GB of storage and microSD card support, there's plenty of room for the millions of photos you're going to take. And you should take millions of photos, because the camera is ridiculously good. It features four rear cameras and a 16MP selfie camera that are all powered by AI technology to create the best possible looking images. The camera also offers the option to shoot in slo-mo, stop motion, light trace, pano, super macro, and high pixel.
The phone features a curved AMOLED screen that incorporates NXTVISION, which enhances your visual experience by automatically making the screen brighter, richer, and clearer. To keep your eyes protected, it also incorporates adaptive tone, reading mode, and eye comfort mode.
The only major problem I found is the lack of a way to quickly put the phone on vibrate from the outside of the phone, which is pretty inconvenient.
Color options include Ember Gray and Forest Mist Green. The TCL 10 Pro is available for purchase on May 19th at Amazon, Best Buy, and Walmart.