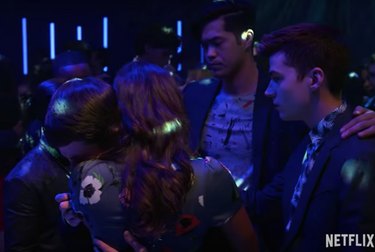 The fourth and final season of 13 Reasons Why will be released on June 5th, and it's emotional for everyone. The teen drama has been controversial since it first aired in March 2017, but the real-life coming-of-age issues explored on the show (including friendship, love, depression, mental health, pregnancy, sexual assault, and bullying) have deeply affected so many.
Fans aren't the only ones sad to see the show end, the cast is as well. Netflix released an emotional behind-the-scenes video of the cast during their final table read, and there were lots of tears.
The teaser video doesn't offer any hints as to what expect in the final 10 episodes of the series, but we do see at least one character who seems to be making a return in some capacity—Bryce Walker, aka Justin Wright Prentice.
According to Netflix, in the fourth season, the group of friends (friends might be a strong word for this group) prepare to graduate high school, "but before they say goodbye, they'll have to keep a dangerous secret buried and face heartbreaking choices that could impact their futures forever."