There's a lot of misinformation about COVID-19 being spread on the internet, specifically on Twitter. Because of that, Twitter is taking a step to help fight against it.
Back in March, Twitter announced plans to label or remove misinformation related to COVID-19 that could cause physical harm or widespread panic. This week, the social media platform published a blog post that details their approach to provide additional labels with explanations or clarifications on misleading tweets that go against the advice of public health officials.
The labels will link to a a "Twitter-curated page or external trusted source containing additional information on the claims made within the Tweet."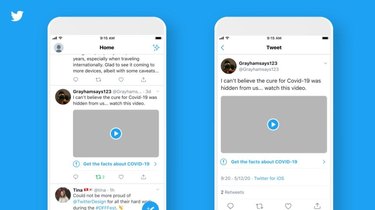 Depending on the level of harm a tweet providing misinformation can cause, Twitter might apply a warning directly onto a tweet, which will warn people that the presented information conflicts with public health experts' guidance before they view it.
Misinformation will be tagged based on three categories: misleading statements that have been confirmed to be false, disputed claims, and unverified claims.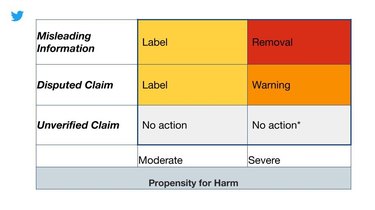 It isn't really clear how Twitter will identify the Tweets, but the blog post explains that they will "rely on trusted partners to identify content that is likely to result in offline harm" and will improve on "internal systems to proactively monitor content related to COVID-19."