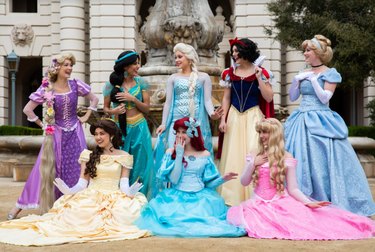 If your kids are into princesses, and you're interested in becoming the world's greatest parent for a day—or at least 30 minutes, here's what you need to do: Book a Princess & Me video party immediately. Seriously, do it.
Princess & Me is a company based out of Los Angeles that has a roster of actresses who transform into the princesses your kids know and love, and under non global pandemic circumstances, pop into birthday parties to make dreams come true.
Of course, during this stay-at-home time, in-person visit can't happen. So, to bring some magic to your kids' lives and to give you a well-deserved break for a bit, Princess & Me is offering Zoom calls.
I set up a call for my 3-year-old daughter, who has unofficially changed her name to Elsa (sometimes she goes by Anna), so it's no surprise that it was the absolute highlight of her quarantine. (She was so excited, she didn't even remember to wear one of her 56 Elsa dresses—a gross exaggeration, but you get it.)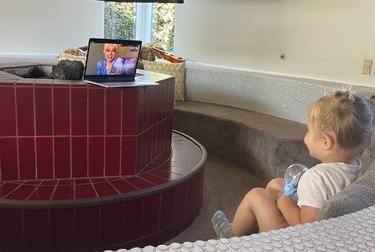 The Snow Queen herself chatted with my daughter, who was too starstruck to speak for much of it. Elsa led the conversation, played games, sang songs, and had perfect answers to my daughter's questions (she asked why her parents died). Elsa was a pro, and I'm so impressed with her stamina.
We've been doing lots of Zoom calls lately (like most of you), and this was the most engaged my daughter has been. She hasn't stopped talking about her time with Elsa, and she wants her to "come over after coronavirus." I'd say it was a success.
"These video calls have honestly been great for everyone—parents, kids, performers, and the company," owner Ali Williams said. "The parents are so happy to have a break. I've seen a few taking naps in the background, cooking, or just zoning out on their phones. It's nice to know they can get some downtime from full-time parenting."
Here's how it works
Complete the booking form on the Princess & Me website. An email will be sent with a Zoom link and all the information you need for the call. An invoice is sent via Square after the call.
Choose from three call options
You choose the date and time.
Story time & Singing
Magic Show
Time for questions & fun conversation
Great for kids to get quality one-on-one time
Ability to record. Watch again & again!
Private call with just your household and the character(s)
30 minutes approximately
$60 USD for 1 Character (offerings listed below)
Add a second character for $50 USD more
You choose the date and time. Fill out a Booking Form below.
Story time & Singing
Magic Show
Group Game & Dancing
Great for birthdays
Ability to record. Watch again & again!
Just you and your friends
Recommend up to 12 households participating
45 minutes approximately
$100 USD for 1 Character
Add a second character for $80 more
Several date and time options available. Select one then fill out the Booking Form.
Games
Show & Tell
Coloring
Dancing
Great to get the kids moving & active
A few opportunities to talk & connect
Gives you some downtime at home
1 hour approximately
Up to 12 households tuning in via Zoom
Open to public
Choose from date below
$15 USD per household for 1 character events
If it's in your budget, try it out. You deserve a break, and your kids deserve some magic.