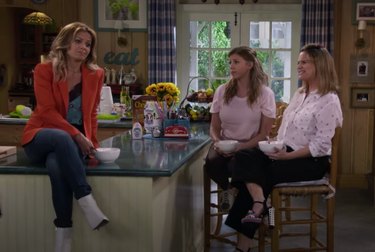 It's been 25 years since Full House abandoned us. At least, that's what it felt like when the family we knew so well aired on our TVs for the last time on May 23, 1995. I remember that final curtain call like it was my own family saying goodbye to me forever. So, when I heard that the Tanners would be coming back for a spinoff show, my superficial abandonment issues immediately disappeared.
I missed my old familiar friends, but waiting just around the bend was D.J., Stephanie, Kimmy, Steve, with periodic visits from Danny, Jesse, and Joey. Plus a bunch of new characters I didn't need, but welcomed.
Fuller House isn't a show I'd typically watch. It's meant for kids, but I watch it anyway, because I feel like I owe it to my 12-year-old self. I have a hard time getting through the episodes without cringing at the humor, but somehow, they still bring me joy and weirdly make me feel safe—like I'm getting a big hug from a long lost family member.
Now that Fuller House is coming to an end, the same grief I felt in 1995 is creeping up again. I don't even like the show, but I'm just not ready to quit the Tanner family. And I think I'm not alone with those feelings.
Whether you love Fuller House or just aren't that into it, you have to admit that the trailer for the final season is pretty emotional.
The final nine episodes will drop on Netflix on June 2nd.