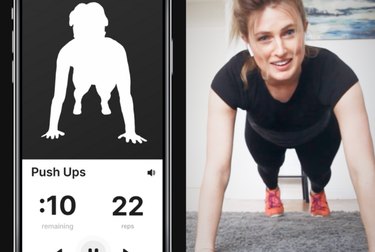 Let's be real—it's hard to stay motivated when working out at home. But while gyms are closed and the kids are home, options are limited.
There are countless fitness apps and live classes to choose from online, but a new app skips all the bells and whistles, making it easy to jump right in for a good workout when time is limited.
The app is called Onyx, and it's like having a personal trainer without the cost. The app uses in-device computer vision and AI to track nearly any exercise, count your reps, correct your form, motivate you to keep going, and provide guided workouts tailored to your performance in real-time. It's designed to create the best social fitness experience that doesn't rely on equipment.
Using just your camera, a virtual coach is able to give you feedback based on your actual movements to help you get the best results and avoid injuries. So, if your squats aren't low enough or your elbows are too extended in your pushups, the coach will tell you so you can fix your form.
Onyx provides detailed progress tracking for each exercise. And if you want some added motivation, turn on the leaderboard to compete with friends or to hold yourself accountable.
Here's how it works
Download Onyx free for iOS here. The Android version is coming soon.