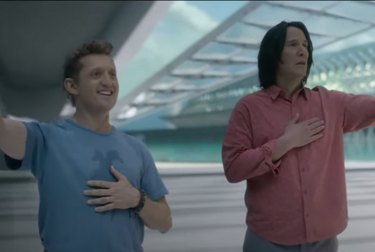 Bill and Ted are back, and while they're a bit older, they're still excellent.
Keanu Reeves and Alex Winter are reprising their roles as Ted "Theodore" Logan and Bill S. Preston, Esq. in Bill & Ted Face the Music. Written by Chris Matheson and Ed Solomon, the same guys who wrote the first two Bill & Ted movies, the story catches up with the friends 30 years later as they continue trying to write a song that will unite the world and "save reality as we know it."
"Basically, they're supposed to write a song to save the world and they haven't done that," Reeves said during an appearance on The Graham Norton Show. "The pressure of having to save the world, their marriages are falling apart, their kids are kind of mad at them, and then someone comes from the future and tells them if they don't write the song it's not just the world, it's the universe. So they have to save the universe because time is breaking apart."
The movie was originally scheduled to release on August 21st, but given the current pandemic situation, it's set to come out sometime this summer.