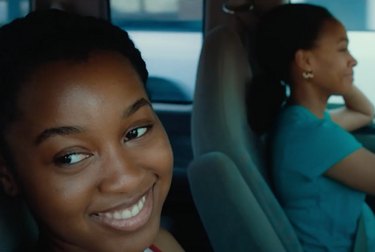 In honor of Juneteenth, the nationally celebrated commemoration of the end of slavery, the much-anticipated film Miss Juneteenth will premiere digitally and on-demand on Friday, June 19th.
The film was written and directed by Channing Godfrey Peoples and stars Nicole Beharie (who you might recognize from Hulu's Little Fires Everywhere), Kendrick Sampson, and Alexis Chikaeze. It premiered at Sundance Film Festival 2020 and won the Lone Star Award for Best Texan Film at the SXSW Film Festival 2020.
Here's the official description: "A former beauty queen turned hard working single mom prepares her rebellious teenage daughter for the Miss Juneteenth pageant, hoping to keep her from repeating the same mistakes in life that she made."
Juneteenth recognizes the freedom of Black people from slavery, something that came far too late for so many. The film, however, focuses on two women who "come into their own in a different way," according to Beharie.
"As a girl growing up in Texas, I marveled at the annual Miss Juneteenth winner gliding across the stage with hope on her face," Godfrey Peoples told ET. "Before I understood the significance of the pageant and its purpose of instilling pride and self-worth in the ladies who were crowned its winner, I was fascinated by the pageantry: its contestants were young, hopeful African-American women."
"Miss Juneteenth is a movie about dreams deferred," she added. "I am so honored to be able to make this film about a woman who is the legacy of those ancestors, desperately looking for a way to make a better future for her daughter."
Miss Juneteenth will also be released in select theaters on June 19th, depending on the state of the health crisis in each city.