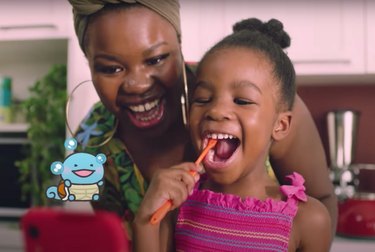 A new augmented reality Pokémon game is making it easier to get your kids to brush their teeth. Pokémon Smile is an augmented reality toothbrushing game that encourages kids to do a better job of brushing their teeth.
Kids get to partner up with their favorite Pokémon to "defeat the cavity-causing bacteria and save captured Pokémon." There are over 100 characters to save, which encourages daily healthy brushing habits. There are fun brushing awards to earn, as well as opportunities to take selfies while brushing and decorate them with digital stickers.
To save all the Pokémon and win the game, kids have to consistently and thoroughly brush their teeth. So really, it's a win for them and a win for you.
Pokémon Smile is designed for kids, but it can be played by Pokémon-loving grownups too. Fresh breath doesn't discriminate.