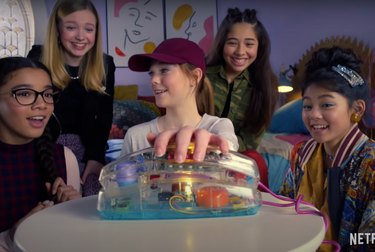 When The Baby-Sitters Club first hit theaters in 1995, your own babysitting business was probably booming. Now, 25 years later, the movie's reboot is coming to Netflix, and things have likely changed a bit for you. Maybe you're hiring babysitters instead of doing the babysitting, or maybe you have kids old enough to get paid to watch other people's kids.
The good news is, now you get to share you love of The Baby-Sitters Club with your kids (or maybe just relive its greatness yourself). Originally based on Ann M. Martin's best-selling series of books, a TV series, and the original movie, The Baby-Sitters Club TV series reboot brings back the same nostalgic characters, but updated to make sense in today's world.
The story follows the friendship and adventures of middle-schoolers Kristy Thomas (Sophie Grace), Mary-Anne Spier (Malia Baker), Claudia Kishi (Momona Tamada), Stacey McGill (Shay Rudolph), and Dawn Schafer (Xochitl Gomez) as they start a babysitting business in Stoneybrook, Conn.
Produced by Martin and also starring Alicia Silverstone as Kristy's mom and Mark Feuerstein as her love interest, the 10-episode first season will debut on Netflix on July 3rd.
Here's the teaser trailer:
And here's the original movie's trailer for old time's sake: