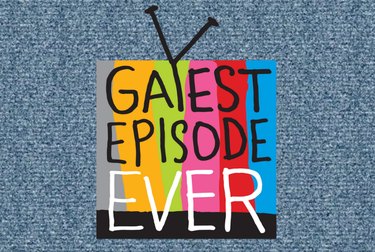 Pride month will be over before you know it, but pride doesn't stop there. It's always a good time to support LGBTQ+ creators, especially when they create something so perfectly gay.
Gayest Episode Ever is a podcast about TV episodes that focus on gay themes, specifically classic sitcoms that aired before queer characters and storylines were regularly represented on broadcast television. You know, before ​Ellen​, ​Will & Grace​, and ​Glee​ made being gay widely accepted as normalcy.
Hosted by journalist Drew Mackie and screenwriter Glen Lakin, the conversations are smart and funny, and they offer important insight into the evolution of queer representation on TV, as well as informative dialogue about gay rights. The hosts take deep dives into the making of the episodes that were so formative in our lives, and they discuss how the episodes affected our culture at the time.
Shows discussed include ​Golden Girls​, ​I Love Lucy, Perfect Strangers​, ​The Nanny​, ​Night Court​, ​Scooby-Doo​, ​American Dad​, ​The Simpsons​, and ​The New Adventures of Old Christine​.
The podcast is hilarious, emotional, educational, and a must-listen for anyone who identifies as LGBTQ+ or as an ally. Self-identifying as a pop culture junky might also be a prerequisite for this one. Check it out on iTunes, Spotify, or Soundcloud.