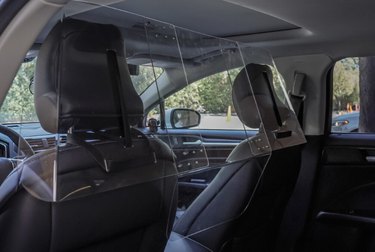 Lyft already requires both drivers and passengers to wear masks while in the car together, as well as certify that both parties are symptom-free and that they'll follow CDC and local health official guidelines. The company is now taking an extra precaution by giving drivers free plastic partitions to install in their cars.
Not all drivers will receive a dividers, however, as Lyft is only distributing them to high frequency drivers in Washington, D.C., Los Angeles, Seattle, Boston, Phoenix, Dallas, and New York City for now. The busiest drivers in Atlanta, Denver, and Baltimore received theirs earlier this month.
Over the next few months, Lyft plans to distribute another 60,000 plastic partitions to drivers in 30 of the regions where the company operates. In the regions with the most activity, Lyft's goal is to provide 50% ride coverage, so there's a high chance of getting a car with a partition.
Later this summer, dividers will be available for drivers to purchase from the Lyft store—a new online store designed to give drivers easy and affordable access to PPE, cleaning supplies, and face masks. No word on the cost.