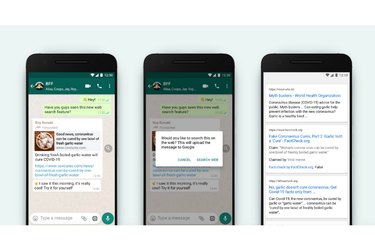 There's a lot of misinformation floating around the internet. WhatsApp is taking step to prevent it.
WhatsApp has added a new feature that makes it easier to fact check information sent in a message. Now, users will see a magnifying glass button on forwarded messages. When clicked, a Google search will pop up in your browser, providing information on the subject. You should then be able to decipher whether the information is accurate or not.
Forwarded messages already display double arrows, indicating the message wasn't written by the person sending it. And earlier this year, in an effort to keep messages intimate, the app set a limit so forwarded messages can only be sent to one chat at a time.
There usually isn't anything concerning about forwarded messages—people use them to send funny videos, memes, and helpful information. Misinformation is what's important to be aware of.
The new feature is currently being rolled out in the U.S., UK, Brazil, Italy, Ireland, Mexico, and Spain on iOS, Android, and WhatsApp Web.