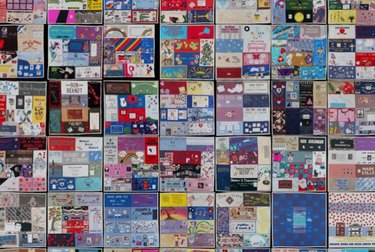 It's been 40 years since the beginning of the HIV/AIDS epidemic. Since then, the devastating disease has infected 76 million people worldwide, taking the lives of around 33 million people, according to the WHO.
To honor the people who lost their lives to AIDS in the U.S., the AIDS Memorial Quilt was created with each panel commemorating the people who died of the disease. The quilt was first displayed at the National Mall in Washington, DC in 1987 with 1,920 panels. The quilt has since grown to 48,000 panels, weighing 52 tons and spanning 1.2 million sq. ft.
Now, in partnership with AIDS Quilt Touch, all 48,000 of the AIDS Memorial Quilt can be viewed and searched using the interactive, high-resolution digital image of the entire Quilt at AIDSMemorial.org.
"When we created the first Quilt panels it was to share with as many people possible lives tragically being lost to AIDS and to demand action from our government," Quilt founder and gay rights activist Cleve Jones said in a statement. "The Quilt has become a powerful educator and symbol for social justice. My hope is that through continued storytelling and making the panels available online, that more people will be drawn to its stories, its history and that we can continue to change hearts and minds."
You can view all the love and stories stitched into the massive Quilt here.