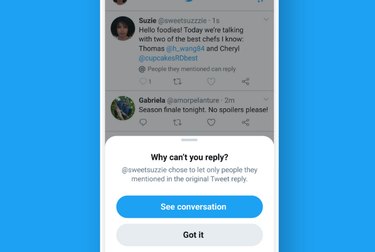 Twitter is now letting users set limits on replies to their tweets, attempting to making the conversations more meaningful without all the trolling and negativity.
Now, whenever you compose a tweet, a small globe icon will appear at the bottom of the tweet box. If you ignore it, the tweet will be sent to your followers and everyone will be able to reply—business as usual. Or you can tap the icon and choose to limit replies to only those who follow you or those who you tag in the tweet. You can also choose the tag option and tag no one, giving you the platform to say what you want to say without any replies.

Limiting replies is a way to have control over the conversation and message you want to send—to stop abusive replies and to keep the conversation on topic.
"Sometimes people are more comfortable talking about what's happening when they can choose who can reply," Suzanne Xie, Twitter's director of product management wrote in a blog post explaining the new feature. "We've seen people use these settings to have conversations that weren't really possible before. Starting today, everyone will be able to use these settings so unwanted replies don't get in the way of meaningful conversations."
The new feature has already rolled out globally, so you should be able to see the options now.