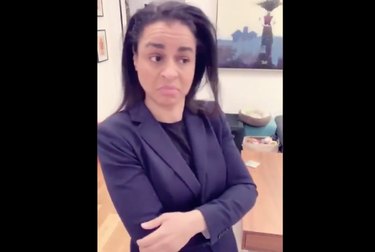 There are countless Donald Trump impersonators who are really good at what they do. But Sarah Cooper might just be the best.
Cooper is a comedian who went viral after posting spot-on impersonations of Trump. She's been working as a comedian for six years and has published several books, but it's her impeccable and hilarious impersonations that has landed her her first comedy special on Netflix.
Directed by Natasha Lyonne, with Maya Rudolph signed on as one of the executive producers, Sarah Cooper: Everything's Fine will touch on politics, gender, race, class, and "other light subjects," according to Netflix. Cooper "will be joined by a fantastic array of special guests who will participate in short interviews, sketches and more shenanigans."
The first video that went viral back in April, which she titled "How to medical," has over 22 million views, with retweets from celebrities including Lin-Manuel Miranda, Cher, Ben Stiller, Halle Berry, and Chrissy Teigen.