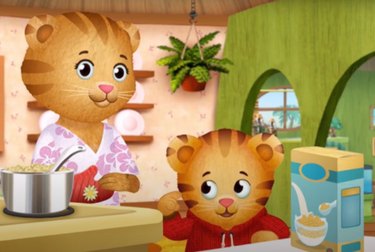 If your toddler is obsessed with Daniel Tiger, here's some good news. The Daniel Tiger section on the PBS Kids website offers interactive games, stories, videos, printable coloring pages, as well as songs, their lyrics, and the sheet music—in case you have any budding musicians in the family.
The content is based on ​Daniel Tiger's Neighborhood​, which is produced by The Fred Rogers Company. It's adorable, educational, and it helps kids learn important social-emotional skills and life lessons. Click here to visit the website.
In addition to the PBS website, you can also download the Daniel Tiger for Parents app for iOS and Android, which is available in both English and Spanish. There you'll find over 100 songs and videos to show your kids when they need a little extra help managing their feelings, sharing, self-control, responsibility, making choices, and big things like potty training.
The website and app are just two more ways to help your toddler learn and grow in a positive way. Plus, it's screen time you can actually feel good about.