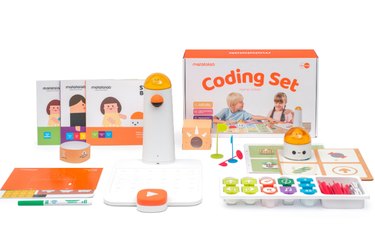 School isn't exactly conventional right now, as many kids are doing virtual learning from home. It's hard on the kids, the teachers, and the parents.
Matatalab has a new coding set that gives everyone a break from school while offering fun educational STEAM games without the use of a screen.
The Coding Set Home Edition uses colorful plastic blocks to represent coding commands. The set is hands-on, so kids can construct their understanding by building blocks. Designed for kids as young as four years old, it's a great introduction for kids who have little to no experience coding.
To play, kids create their own playground, plan a route, go and observe, and verify and debug. It's completely free of words, so kids don't need to know how to read to play, they just need to understand directional language.
This at-home set also supports two double-sided panels that helps kids plan their adventures, along with three storybooks full of progressive activities and challenges.
Matatalab helps kids develop important skills, including computational thinking, critical thinking, creativity, collaboration, and communication. Plus, it's just fun.
You can buy the Matatalab Coding Set Home Edition on Amazon for $130.