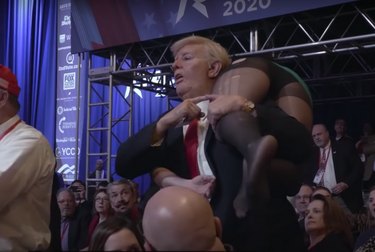 When Borat was released back in 2006, most people thought one of two things: the movie was hilarious, or it was the most uncomfortably terrible movie ever made. Either way, the movie had people talking, because nothing like it had ever been done.
Well, get ready, because Sacha Baron Cohen is back in the Borat sequel, and based on the new trailer, it looks just as funny/disgusting as the original.
In The Borat Subsequent Moviefilm: Delivery of Prodigious Bribe to American Regime for Make Benefit Once Glorious Nation of Kazakhstan (that is the actual title of the movie), Borat brings his daughter, played by actress Irina Nowak, to America to carry out a secret mission.
After being recognized by literally everyone (because let's be real, everyone knows Borat), Cohen found a disguise that worked well enough to get unsuspecting people to say horrible and ridiculous things on camera, just as you'd expect.
Turns out, the secret mission was to give his daughter to Mike Pence while dressed as Donald Trump, which didn't seem to work out as planned.
The Borat sequel will be released on Amazon Prime Video on October 23rd.