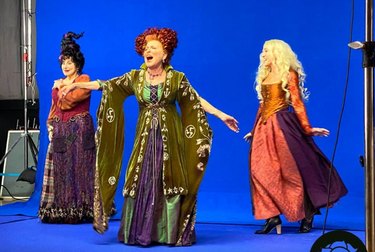 It's taken 27 years, but the Sanderson Sisters are officially back for a Hocus Pocus reunion special starring Bette Midler, Sarah Jessica Parker, and Kathy Najimy.
The virtual event is called "In Search of the Sanderson Sisters." Tickets are $10 and benefit the New York Restoration Project. The one-time, hour-long showing will broadcast on Oct. 30 at 8 p.m. ET./5 p.m. PT.
Other actors from the movie will also take part, including Thora Birch (Dani), Vinessa Shaw (Allison), Omri Katz (Max), and Doug Jones (Billy Butcherson). Plus a bunch of celebrities who had absolutely nothing to do with the making of the movie, but likely love it as much as we do, will also be involved, including Meryl Streep, Glenn Close, Jennifer Hudson, Billy Crystal, Jamie Lee Curtis, Anjelah Johnson, and Sarah Silverman.
The event has already been filmed, and several of the actors have shared behind-the-scenes photos Clearly not much has changed for the Sanderson Sisters.
Also, Billy is back, and just as dusty.