It's probably pretty impossible not to know this, but the U.S. presidential election is tomorrow, Nov. 3. Today's Google Doodle is making sure you don't forget to vote with a friendly, but assertive design.
When you click on the design, you'll be directed to a "Where to vote" box where you can type in your address to find the location of your polling place and the hours it'll be open tomorrow. The page will also populate with loads of election information.
"Today's Election reminder Doodle leads to a tool that will help you find key information on how to vote in the 2020 U.S. Election including what you need to bring with you to vote, how to check your registration status, and how to find polling places and ballot drop box locations," according to the Google Doodle info page.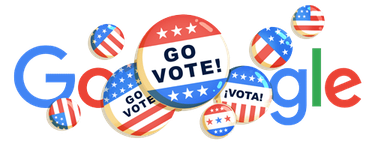 The Google Doodle is actually pretty handy and serves its purpose as a quick and easy way to find out anything you need to know about the election.