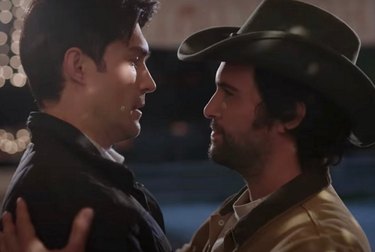 Christmas movies are getting a lot more inclusive, and it's about damn time.
Joining the lineup of several other LGBTQ+ movies this holiday season is ​Dashing in December​, a rom-com about two gay men who unexpectedly fall in love after one of them returns to his rural hometown.
Premiering on the Paramount Network on Dec. 13 at 7 p.m. ET, the film stars Peter Porte, Juan Pablo Di Pace, and Andie MacDowell. Porte plays Wyatt, a fancy New York businessman who returns home to try to talk his mom (MacDowell) into selling the family ranch. Wyatt meets Heath (Di Pace), and like any good rom-com, it takes some heart-to-hearts and accidental shirtless encounters before they fall for each other.
The film is basically just like all the Christmas movies you've ever known and loved, except gayer and with ​two​ alarmingly handsome leading men instead of one. 'Tis the season for inclusivity, after all.
Porte told Techwalla that he's "honored to be among the first mainstream family Christmas movies to embrace inclusive storytelling. It couldn't have come at a more pivotal time. I hope you enjoy it, but more so I hope it reminds us that we're not so different, that generally we're all searching for the same things: love, happiness, and keys."